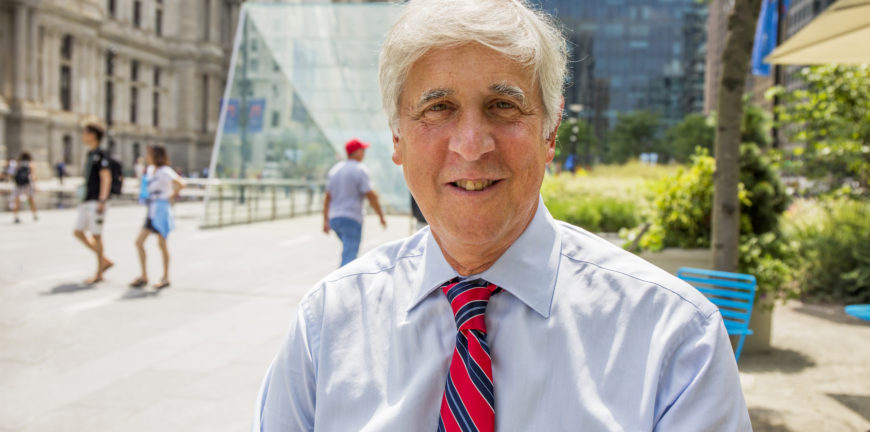 Paul R. Levy To Be Honored With Vision For Philadelphia Award
Philadelphia Hospitality to Honor Paul R. Levy at 2017 Vision for Philadelphia Award Gala
Founding chief executive of Philadelphia's Center City District will accept the award for his achievements in the revitalization of the city
(PHILADELPHIA, PA – July 11, 2017) – Philadelphia Hospitality will honor Paul R. Levy with the 2017 Vision for Philadelphia Award on Monday, October 23, 2017. The night will pay tribute to Levy's achievements in civic leadership, urban transformation and revitalization benefiting Center City, Philadelphia.
The Vision for Philadelphia Award recognizes a leader or organization that plays a preeminent role in advancing the Philadelphia region – whose energies focus attention on our assets and whose leadership impacts the quality of life of our region's citizens and business community.
With a vision in mind for Philadelphia, Levy founded the Center City District (CCD), operating as chief executive director for the company/organization for more than two decades. Levy focused heavily on safety and cleanliness, making these two attributes his first main focus in his plan to reshape Philadelphia. Levy is also credited for his recent endeavors that have transformed the city for residents of all ages, including the renovation of Dilworth Park and Sister Cities Park, and their newest project, the Rail Park.
Since Paul Levy's entry into Philadelphia, the city center and the Greater Philadelphia Region has benefitted immensely from his work. Center City continues to thrive in almost every aspect, from employment to art and culture to hospitality.
According to Central Philadelphia Development Corporation's (CPDC) bi-weekly news updates, Visit Philadelphia reported that Center City, as well as the Greater Philadelphia Region, saw a 2.4% increase in visitors from 2015 with a total of 46 million. These visitors generated an astounding $11 billion in economic impact, according to the report, and supported 96,600 jobs.
Philadelphia has also flourished in employment. According to Center City District's annual State of Center City Report for 2017, Philadelphia is currently benefiting from an eleven year positive job growth, adding around 40,000 jobs, 16,000 of those jobs being added in 2016 alone. With an increase of 2.4%, Philadelphia is surpassing much of the nation in job growth. Center City, Philadelphia holds 42% of all Philadelphia jobs, which is also assisting in the increase of residents living in the Philadelphia area.
Levy and the Center City District are fulfilling their ultimate goal of a safer and more attractive Philadelphia every day. Providing more personnel in populated areas, Center City District is enjoying a significant reduction in crime in the last 23 years, according to their 2017 State of Center City Report. With the addition of new developments all over the Philadelphia area, more people are being drawn to CCD parks. According to the report, an estimated 31,000 pedestrians entered Dilworth Park per weekday in 2016. In a survey done by CCD in the report, 99% of surveyors added that they thought the parks were clean/very clean when they visited, and 95% reporting they feel safe/very safe. Overall in the annual report, CCD stated that 85% of the respondents of their survey feel things in Center City are improving in the right direction. The Center City District's hard work to make Philadelphia a better place for residents, patrons, businesses, tourists, developers and workers seems to be paying off immeasurably.
Commenting on Mr. Levy's recognition, John Kroll, chairman of Philadelphia Hospitality's board of directors, said, "Levy is the perfect honoree for the award. He has done so much for the Hospitality Industry and Community over the decades and strengthening the Philadelphia brand with his continuous flow of designs and concepts, his leadership role in spearheading these ventures, and his attention to the growth and improvement of the Center City scene, which is now one of the hottest scenes in the nation."
Levy also serves as executive director of Central Philadelphia Development Corporation, an advocacy and planning organization supported by the downtown business community, whose recent initiatives include the development of a master plan for the Benjamin Franklin Parkway and a plan for a comprehensive municipal tax reform that is advancing at the State level.
###
About Philadelphia Hospitality, Inc.
Philadelphia Hospitality, a private non-profit organization, was created 35 years ago to attract cultural, corporate and professional groups to Philadelphia, and introduce them to the city's wealth of world-class museums, historical sites, horticultural attractions, and performing arts venues. Their unique programs feature both the public side of Philadelphia through behind-the-scenes tours of the city's world-renowned cultural and historic treasures and its private side through visits to private homes, art collections and gardens. The organization contributes to the region's economic development through tourism. Philadelphia Hospitality is known for creating distinctive programs, providing exclusive access and delivering exceptional service.