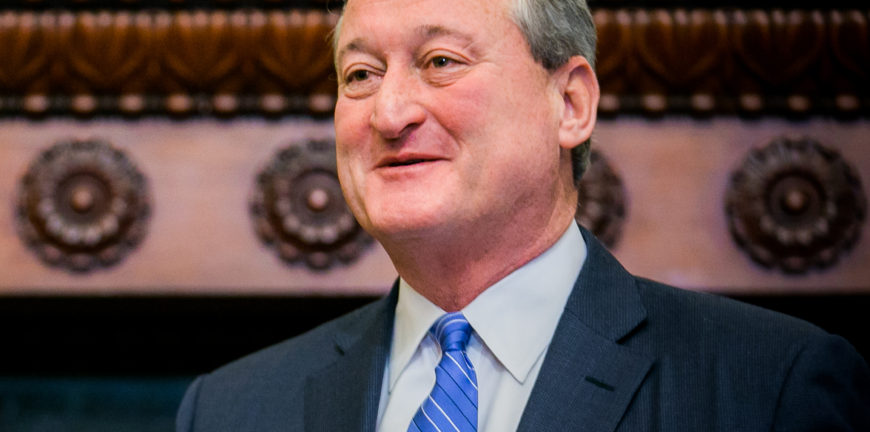 Mayor Jim Kenney to Receive 2016 Vision for Philadelphia Award
Philadelphia Hospitality, Inc. to donate books to North Philadelphia Pre-K education program
Philadelphia, Pa., Sept. 21, 2016
Philadelphia Hospitality, Inc. is proud to present Philadelphia Mayor Jim Kenney with the prestigious 2016 Vision for Philadelphia Award on Sept. 26. The celebration will be held at 6 p.m. at the Hilton Philadelphia at Penn's Landing, 201 S. Columbus Blvd.
Pa. Gov. Tom Wolf and John Fry, president of Drexel University, are serving as honorary co-chairs of this exciting evening, along with gala co-chairs, Jim Cuarto, president & CEO of Independence Visitor Center; John McNichol, president & CEO of Pennsylvania Convention Center Authority; Julie Coker Graham, president & CEO of Philadelphia Convention & Visitors Bureau; Meryl Levitz, president & CEO of Visit Philadelphia; and Rebecca & William Mifflin, past executive director of Philadelphia Hospitality, Inc.
For the past 22 years, the Vision for Philadelphia Award has recognized a leader or organization that plays a preeminent role in advancing the Philadelphia region, whose energies focus attention on the city's assets and whose leadership impacts the quality of life of the region's citizens and business community. Past honorees have included Jack Ferguson, former president/CEO of the Philadelphia Convention & Visitors Bureau, Amy Gutmann, president of the University of Pennsylvania and Dr. Keith Leaphart, owner of Replica Creative and chair of the Lenfest Foundation.
According to John Kroll, chair of Philadelphia Hospitality, Inc. Mayor Kenney is truly deserving of this honor. A lifelong Philadelphian, Mayor Kenney has devoted his life to civil service benefiting the people and institutions of the great city of Philadelphia. He has long been a champion for the tourism and hospitality industry in the city, dating back to his first term as a city councilman. Mayor Kenney has served on the boards of the Philadelphia Convention and Visitors Bureau (PHLCVB) and Visit Philadelphia. He also supported the Pennsylvania Convention Center's efforts to improve services, ultimately commanding substantial tax revenues for the city.
"Mayor Jim Kenney has been a part of the hospitality community for years," said Kroll. "Whether he was participating in a board meeting or attending an industry function, he has been instrumental to the greatness of the city and the success of Philadelphia's hospitality industry and we are proud to honor him with the Vision for Philadelphia Award."
To show its appreciation for Mayor Kenney's commitment to Philadelphia's tourism industry, Philadelphia Hospitality, Inc. has invited guests to support one of his administration's key educational initiatives – increasing quality pre-K for thousands of children who a need it the most. Guests have been asked to bring a new children's book appropriate for three- and four-year-olds, to the gala. The books will be donated to Gray's Kiddie Land, 2429 West Allegheny Ave., Philadelphia, Pa., 19132. Books can also be purchased on Amazon and shipped directly to Gray's Kiddie Land. This gesture will go a long way in building the literacy skills of Philadelphia's youngest learners.
About Gray's Kiddie Land:
Gray's Kiddie Land, a Keystone Star 3 accredited early childhood program, has served the North Philadelphia community for 33 years.
About Philadelphia Hospitality, Inc.
Philadelphia Hospitality, Inc., a non-profit organization, was created with a unique vision for Philadelphia: establishing the region as a premier destination for cultural, professional and corporate groups. We work to enhance the image of Philadelphia nationally and internationally.  We provide distinctive programs that feature both the public side of our city through behind-the-scene tours of our world-renowned cultural and historical treasures and its private side through visits to private homes, art and antique collections, and gardens.
By attracting distinguished groups of decision makers and influencers to the region, and showing them our finest assets, we contribute to the area's economic development through tourism. We offer our groups a warm and personal welcome which enhances their experience.