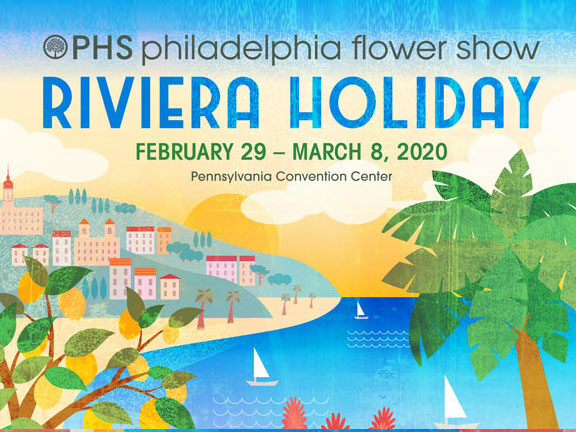 Flower Show 2020: Riviera Holiday
Dates: February 29th – March 8th
* Sample tour only, please contact Philadelphia Hospitality to customize your tour!

Kimmel Center
Enhance your Flower Show visit by celebrating women!
Learn about women's right to vote and equality 100 years later at the interactive exhibit at the Kimmel Center. "Seat at the Table" is an exhibition that commemorates the 19th Amendment – women's right to vote – and asks 100 years later, "Where are we now?" Visitors will experience the current status of gender equality in the United States through 3D infographic furniture. Combine this with a Specialty Art and Architecture tour at the Kimmel for an immersive and exciting experience.
Discover Center
The Discovery Center is a facility for research and science-based conservation projects and was an abandoned water reservoir for Philadelphia. Passing flocks have known about the reservoir for decades. More than 170 species of birds have used the site for habitat or as a migratory stopover. Canvasback ducks, coots and mergansers plunge deep for food. Great blue herons and kingfishers hunt along the basin's edge. Raptors scoop fish off the surface. Geese and gulls bob on the waters. Dozens of other species rest and feed during migration, or summer or winter in the woodlands around the quiet lake. It is one of the region's most significant bird areas, and one of its best kept secrets. Add this environmental gem to your Flower Show visit.
Sample Flower Show Tour
Day 1
– With early private entry to PHS Flower Show, you'll be thrilled with an expert horticultural guide. Afterward, tour and shop without crowds.
– Lunch at Philadelphia Museum of Art where a senior docent gives you a tour of special exhibits
– You'll get wowed when you do a drive by of Princess Grace Kelly's family influences which include, Kelly Drive boat houses, Water Works, Laurel Hill Cemetery, Grace Kelly Home, Raven Hill and more
– Relax at the end of the day with a cocktail welcome reception and tour of a private club
Day 2
– Private coach to Winterthur Mansion to marvel at the DuPont's family home.
– Lunch at Longwood Gardens located in the heart of the mushroom capitol.  Gain greenhouse pointers as you wander through their many conservatories. Return to your hotel and compare purchases and delights with your travel companions.
– Dinner at a James Beard award-winning restaurant. Yes, we got you coveted reservations!
Day 3
– Full English breakfast in hotel.
– Enjoy a docent-led tour of the Barnes Foundation before doors open to the public.
– Lunch at an eclectic neighborhood restaurant
– Visit the Pennsylvania Academy of Fine Arts, the country's original art school. Curators will take you through the 1876 landmark building and showcase the finest collections of American art in the nation.
– Free time
– Enjoy a private culinary experience at one of Philadelphia's renowned restaurants

Vision 2020 is a national women's equality initiative headquartered at Drexel University's Institute for Women's Health and Leadership. In the year 2020, Vision 2020 will lead Women 100: A National Celebration of American Women to commemorate the 100th anniversary of the 19th Amendment to the U.S. Constitution: women's right to vote. Throughout the year, Philadelphia, the birthplace of American democracy, will be home to Vision 2020's Women 100 programs and events, complemented by the work of Proud Partners — organizations committed to gender equality that have created their own programming in support of Women 100. Vision 2020 applauds Philadelphia Hospitality, one of its Women 100 Proud Partners, on the organization's commitment to advancing women's equality and looks forward to its 2020 program.
For more information or to get involved in Vision 2020's Women 100, visit women100.org.
Contact Us To Customize Your Tour