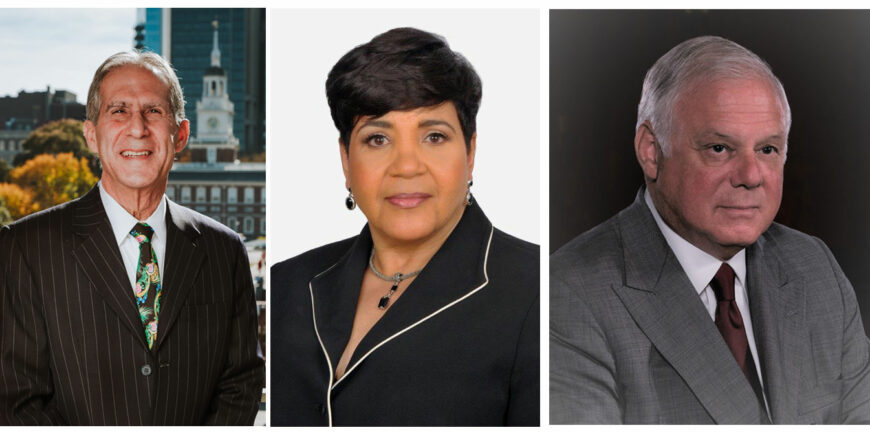 Honorees To Be Recognized at The Vision Gala
October 30, 2019
The Union League of Philadelphia
(PHILADELPHIA, PA – October 21, 2019) − Philadelphia Hospitality will honor Frank Giordano, President & CEO of the Philly POPS, Romona Riscoe Benson, Director of Corporate and Community Relations at PECO and James Cuorato, President & CEO of the Independence Visitor Center Corporation at the 2019 Vision Gala. Their efforts have contributed to positioning the region as a year-round destination resulting in continued economic development.
The Vision Awards celebrate those who have played a preeminent role in advancing the Philadelphia Region and, whose leadership propels us forward, thereby impacting the quality of life of our citizens, business community and visitors. All have left an indelible impression, and all have strong ties to the tourism and hospitality industry. John Kroll, Chairperson of the Board of Directors of Philadelphia Hospitality expressed his delight in the selection of each awardee. "Frank, Romona and Jim individually and collectively are stalwarts to their organizations and to the region. Their work speaks to the core values of the Vision Awards. And what's so terrific is that the region's tourism and hospitality community, hoteliers, attractions, educational institutions with a focus on tourism, corporate leadership and people who are passionate about our region will come to fete them."
Frank Giordano is the President and CEO of the Philly POPs. The success of the POPs was his application of for-profit strategies to a struggling non-profit, which has led the POPS to unprecedented success in ticket sales, contributed revenue, community engagement and artistic expression. Mr. Giordano is Executive Director of the United States Semiquincentennial Commission. He is also the Honorary Consul of Malta for Pennsylvania. Mr. Giordano has a comprehensive history of philanthropy which has included leadership roles on many non-profit Boards and personal support of many iconic Philadelphiaarea institutions. Many of his efforts have benefited underserved constituencies.
Romona Riscoe Benson, Director of Corporate and Community Relations for PECO, has very strong ties to Philadelphia. She was instrumental in leading the formerly known Multicultural Affairs Congress (now PHL Diversity) a part of the Philadelphia Convention and Visitors Bureau (PHLCVB). As President and CEO of the African American Museum in Philadelphia, she led a turnaround strategy, significantly increased attendance, museum membership, programming and stakeholder investment.
James Cuorato, President and CEO of the Independence Visitor Center Corporation is a lifelong Philadelphian. His career in City government spans 29-years beginning in 1975 as a Project Manager at the City's Redevelopment Authority. His last appointment with the City was as City Representative and Director of Commerce in 2000. Among his accomplishments were leading the effort to secure a longterm agreement for the Army-Navy game; providing assistance for numerous commercial projects in
Philadelphia's neighborhoods; and overseeing development in key areas of the City such as the Navy Yard and University City. He was later appointed Executive Vice President of the Penn's Landing Corporation.
According to the Visit Philadelphia, in 2018, the Philadelphia region saw record-breaking visitation and economic impact: The area welcomed 45 million visitors from the U.S., 88% of which visited for a leisure purpose. And 2018 marks the ninth consecutive year of record visitation to Philadelphia. All of this visitation delivers major economic impact to the region: the $7.6 billion in visitor spending in 2018 generated a record-breaking $12.2 billion in economic impact, which equates to $33.3 million every day.
In addition, the $7.6 billion in 2018 visitor spending supported 103,800 jobs and generated $980 million in state and local taxes, which directly benefits priority public services.
Our sponsors include Independence Blue Cross, Comcast NBCUniversal, Pennsylvania Convention Center, The Phillies, PNC, The Philadelphia Tribune, and the Union League of Philadelphia are all proud to support the 2019 Vison Awards Program.
###
About Philadelphia Hospitality, Inc. Philadelphia Hospitality, a private non-profit organization created nearly 4 decades ago by civic leaders who recognized that the region had a wealth of art, cultural and historical assets. The intention then, and to this day, is to attract cultural, corporate and professional groups to experience its world-class treasures. Our strategy, aimed at regional economic growth through tourism, is to increase multi-day hotel stays, restaurant and attraction bookings. Philadelphia Hospitality has evolved into a full-service tour operator with a focus on creating personalized itineraries, offering behind-the-scenes access and delivering firstrate customer service.